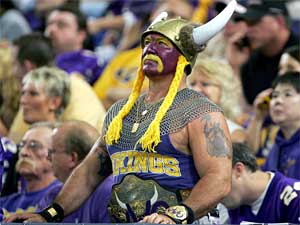 (Look, I know this has been done much better elsewhere about other cities and fans far more deserving of seething hatred. I cannot compete with that, but until Drew goes off on Minnesota my version will have to suffice.)
Despite annually being named one of the best places to live by numerous yuppie dipshit publications, Minnesota does not see a large influx of new residents per year. Shocking. However, if you happen to be one of the few and proud immigrating to the Gopher State you might have some questions about fitting in as a Minnesota sports fan. Being a Minnesota resident but not a fan of these shithead organizations, I am here to help. Following the steps below will help you become as ignorant, irritating, and out-of-touch as your new neighbors and friends.

1. Begin watching hockey. Immediately. You should probably even do some cursory research before moving. Watch Mighty Ducks. Talk about how you grew up on the pond. If you need a conversation starter at a party, claim the ability to hockey stop or skate backwards even though you haven't skated in 10 years. Buy a hockey stick. Tape it up, incorrectly. Using three layers on the blade works fine. Use black tape. It will make you seem like a badass. Woo local bar trash with your performance at a pond hockey tournament "a few weeks ago."

2. Play softball during the summer. Begin constructing lineups in January. Wear batting gloves. Go for eye black if you feel particularly hardcore. State that you "don't take it that seriously. It's really just for fun." Subsequently cite your .312 average and 2 doubles in last weekend's tournament. It'll get you inside a slumpbuster's fly catcher.
3. Watch hockey over basketball, baseball, or any other more interesting and relevant sports even though you don't know the difference between a forecheck and foreskin. Claim to be the "state of hockey" as if that is some kind of honor above being the "state of kid fuckers." Ignore that you supported a professional hockey team so well they relocated. Of course, this doesn't count because you were too busy with your family and youth hockey to notice the professional sports team. Plus, ticket prices are so high nowadays. Believe this situation was unique to your fanbase.

4. Follow all college hockey. Obsessively. Especially Gopher hockey. Act as if other people care. You're a college hockey fan? The only difference between you and a college lacrosse fan is that you probably haven't date raped anyone. Difference between you and a women's basketball fan? There are more of them. A crew fan? Your sister isn't a lesbian, and you probably don't pop your collar or have hair down past your shoulders. A college softball fan? Her tongue has been caught in more bear traps than yours. A college volleyball fan? Half the crowd around you isn't registered sex offenders.
5. Claim Twins fans are the league's best despite evidence to the contrary. When people dispute this notion, either reply with your team's awful marketing gimmick in an attempt to dodge the point or cite excuses such as a "bad stadium" or "small market" as if these problems are unique to the Twins.
6. Bitch about big market teams operating within the league rules. Claim this does not give your team a fair chance to win, because no small market team has ever succeeded. You may also complain that your owner does not take money out of his own pocket to fund the team. After all, he is the only owner in the league acting this way. Your owner is not obligated to maximize his profit. He owes Minnesota. Claim that professional sports are not a business and that owners and players owe something to the fans, especially when it comes to taking a "hometown discount." You may ignore this notion when considering a new job offer from a competing construction site.

7. Whine whenever an NHL franchise south of Chicago wins the Stanley Cup. Claim their fans
"won't know how to properly appreciate it."

8. Pridefully assert Mighty Ducks was filmed in Minnesota.
9. Repeatedly declare the Twins are "right around the corner" or that "this is their year." Do this annually, regardless of their offseason moves. If they can only catch a break or two, they will be right there with the Tigers, Indians and White Sox. For added effect, profess they will be a powerhouse when the new stadium opens. Assert you have one of the best front offices and managers in the game. Claim that if Pohlad would quit being cheap the front office could put out a champion.
10. Cheer for white people and especially Minnesota natives over other similarly talented players. Did you know Mauer went to Cretin-Durham hall? And that he took less money to play here? Matt Birk is a native too. And he went to Harvard. Fuckin' right doggy. Also, if a white player or Minnesota native has one good year in Minnesota he is entitled to receive a pass for subsequent subpar years. However, other players are not permitted the same grace.
11. Proclaim the superiority of the Big 10 at everything. Embrace the victories as if they are a positive trend instead of momentary aberrations. Ignore any and all losses when discussing the Big 10's merits. Criticize other schools for cheating, especially if they are in the SEC, filled with black players, or full of guys who wear wristbands, visors, or other pieces of flair. Those schools only win because they cheat. Maintain the Big 10 "does it right" with regard to both athletics and academics. Compare the Big 10's cheating record to the SEC's. Cite Jim Tressel's sweater vest as a positive attribute even though you are not an Ohio State fan. If you are an Ohio State fan, walk your fat ass into oncoming traffic.
12. Profess this is the year the Gophers turn the corner in football or basketball. Tubby Smith take us to the promised land! Tim Brewster is the answer! We got the QB from Eden Prairie! If it is midway through the season, console yourself they also "do it right." If desperate, cite the superior academics of Minnesota in comparison to those dumbass SEC sister slammers.
13. Claim any good player on your roster is underappreciated because he plays in Minnesota. This works best when the conversation turns to meaningless awards like All-Star games or MVPs. In desperation, player of the week works fine. Joe Nathan is the best closer in baseball! You won't find a better CF than Torii Hunter! If more people knew about Joe Mauer he would start the All-Star game EVERY YEAR. Morneau for MVP! Jeter sucks! With a small number of exceptions, this claim will almost always be wildly inaccurate.
14. Fill out at least ten All-Star ballots every time you attend a Twins game. Only vote for Twins players. When they do not make the team, cite the unfairness of the All-Star selection process, but only after you grumble about them being overlooked because they play in Minnesota.
15. Weigh a minimum of 250 pounds if are you male and 200 pounds if you are female. Wear an XXXL Twins jersey that hangs over your fupa. Pound 4 dome dogs at every Twins game. Wash them down with Diet Coke because you are "watching your weight." Head out for wings and beer after the game because it is Thirsty Thursday. Brag about how hung over you will be the next day at work, which consists of picking up your check at the unemployment office.
16. Wear jerseys in non-ironic or self-degrading fashion, especially to sports bars. Own the jersey of at least one obscure player. Vikings linemen work well. Claim this makes you a better fan than those other bandwagoners sporting Adrian Peterson jerseys.
17. Proclaim the superiority of any and all Minnesota high school sports. In football, state that outside of Florida, Texas, and California, you are "right up there" with anyone. In basketball, cite every Minnesota native in the NBA. Ignore that other states are far more successful on a per-capita basis. Attend the state hockey tournament. Tailgate before the games. Tell tales about your high school sports days as if people care. Wear your jersey to your high school reunion at Brothers. Talk about how you were thisclose to plowing a cheerleader. Forget she was the token fat one at the bottom of the pyramid.
18. Be overly critical of Tarvaris Jackson (Note: I think he blows too, but I am not a Vikings fan. I think he sucks for reasons different from your average purple-clad toolbox's). Blame T-Jack for all the Vikings problems. Ignore that your pass defense sucks, and that your WRs are a collective abortion, and that your coach has the intelligence of a juice box. When citing Jackson's strengths, speak about his athleticism. When citing his weaknesses, wonder if he is smart enough to learn an NFL offense.
19. Continue to read Sid Hartman. Mention him in any argument you have with an opposing fan. Fail to realize he is a dumbfuck, and so are you.
20. Claim to be a diehard fan of every team in Minnesota. Ignore that you only watch three games a year. Oh, the Timberwolves are in the playoffs? Well, I've been a fan since I was 6! I can name three players! How about the Wild? Best fans in the league! What a story! Own at least two articles of clothing from every local team. Wear them with pride when your team is performing. Put them in the bottom of your drawer when your team inevitably sucks. Twins gear is an exception. Rock it at all times. Consider adding a Twins bumper sticker or flag to your car. If you are in college, put a Twins Territory pin on your backpack.
21. Verbally fellate Bert Blyleven.
Follow that? Good. Congratulations on becoming a Minnesota sports fan. I hope you contract cock cancer.
I realize other cities and fanbases are much more deserving of scorn. But I don't live there anymore, so I don't care. Plus, there is only one solution to silencing those assholes.